Image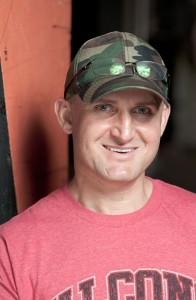 It is with profound sorrow that we announce the passing of Professor Steven L. Warner.  A faculty member at UVA since 2006, Steve was a beloved husband and father, an extraordinary teacher, a brilliant theatre specialist, and a colleague, friend, and mentor of unparalleled generosity and good will.  His loss will be felt across the department, the university, the Charlottesville community, professional theatre and the entertainment industry, on all of which he leaves a deep impact.
Steve received his M.F.A. in Entertainment Production and Management from the University of Delaware in 1999.  He spent several years in the entertainment industry, including with Ringling Brothers Barnum and Bailey Circus, Utah Shakespeare Festival, Texas Shakespeare Festival, and Alley Theatre, among others.  From 2000-06 he worked for the world-renowned Cirque de Soleil in Las Vegas, holding production management positions on several shows and serving as Projects Supervisor for the Resident Shows division.
When he joined the Drama Department in 2006, Steve's roles included Technical Direction and Operations/Production Management.  He managed the operations of the Culbreth and Helms Theatres, and from 2013 the newly-built Ruth Caplin Theatre.  He accomplished numerous critical renovations and earned the department a Virginia Safety Star Award.  As Technical Director he supervised dozens of theatre productions during the academic year and the summer Heritage Theatre Festival.
As a teacher, Steve was deeply engaged with both undergraduates and graduates throughout his career, mentoring numerous students who now work in academia, professional theatre and film, and the entertainment industry.  His courses included Scenic Technology and the highly popular Art of the Creature, in which students study the creative and technical arts of modern Hollywood special effects.  Art of the Creature grew out of the Festival of the Moving Creature, a 2013 collaboration between Drama, Architecture, Studio Art, and the Stan Winston School of Character Art that culminated in a memorable parade of creatures from the Arts Grounds to Nameless Field.  In 2018-19, Steve guided his students in the equally memorable "Hallowheels," in which they designed and created mobile costumes for children with limited mobility. Steve was a Mead Honored Faculty member and the recipient of numerous other university grants and awards.
College of Arts & Sciences in Memoriam article
A celebration of Steve's life will be held in the Culbreth Theatre on December 4, 2022, at 2PM.
Our hearts are with Steve's wife Bri, son Alex, and his extended family and friends at this difficult time.
Photo by Michael Bailey
Wednesday, November 9, 2022